Leisure
Taiyo Park
Open

This park is located on the base of a mountain. Various stone buildings and ruins are replicated such as the Triumphal arch, the Great Wall of China, Moai statues, pyramid, Terracotta Army, Neuschwanstein Castle so you can feel like you traveled around the world while being in Himeji. In the inside, you can also enjoy the largest 3D art exhibit in Kansai.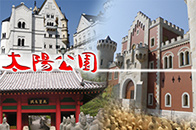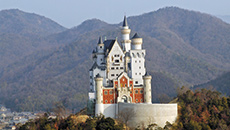 Address
1342-6 Uchikoshi,Himeji-shi
Hours
9:00 to 17:00 (Last admission at 16:30)
Fee
¥1300 for adults, ¥600 for children (elementary and junior high school), ¥1170 for adults and ¥540 for children (elementary and junior high school) in a group (over 20 people)
Closed days
Open throughout the year
Access
Bus
About 30 minutes from JR and Sanyo Dentestu Himeji Station by Shinki bus. Get off at Uchikoshi
Niida stop. 10 minute walk from the bus stop.
Himeji Central Park
Open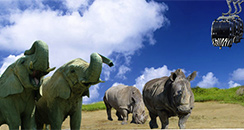 It is a theme park with a safari park, amusement park, swimming pools, and skating link. It has a nickname of "Himesen".
In the safari park, there is a drive through safari where you can ride your own car or a bus and observe carnivores and herbivores close by from the window. You can also enjoy walking safari where you can see water fowls and kangaroos close by and sky safari where you ride a ropeway and see the animal from above.
In the amusement park, there are many rides that children can enjoy such as "Diablo", a roller coaster that you hang from the rail, "Free fall", a ride you fall straight down from 35m above, and 85m high Ferris wheel.

In the summer, a large scaled resort pool "Aquarea" opens with a "river pool" that is 260m around and "surfing downhill" where you slide down on a surf board from a hill. In the winter, an ice skate link called "Ice Park" located in a white building "Kaze no 0 jo".
Address
1436-1 Toyomotocho,Kodani,Himeji
Hours
9:30 to 18:00 in the summer (last admission at 17:00), 10:00 to 16:30 in the winter (last admission at 15:30) ※It changes depending on the season.
Fee
Admission: ¥3100 for adults (junior high school student or older) ¥1900 for children (elementary school), ¥1200 for toddlers (3 years old to before entering elementary school)
※It is for the amusement park, safari, Aquarea (swimming pool), and ice park with skate rental (skating link)
Access
Bus
About 30 minutes from JR and Sanyo Dentetsu Himeji station by Shinki Bus. Get off at "Himeji Central Park (last stop)" stop.
Iejima Islands
Open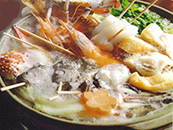 Iejima islands consist of 44 islands located off of Harimanada. People live in 4 islands, Iejima, Bozeshima, Tangashima, and Nishijima, and they are located about 30 minutes from Himeji port by boat. Many people visit here from all over Japan to savor fresh seafood from the Inland Sea of Japan. Other than food, you can enjoy outdoor activities such as swimming in the sea, fishing, and camping. The islands have old allies and scenery like Onomichi, so it is recommended to explore the island on an electric bicycle.
Access
From JR and Sanyo Dentetsu Himeji Station, take Shinki bus for "Himeji Port" for about 25 minutes to the last stop.
Himeji port ⇒ Iejima: Get on "Kosoku Ieshima" or "Kofuku Liner"
Himeji port ⇒Bozeshima: Get on "Boze kisen" or "Rapid Katsura"
Himeji port ⇒ Tangashima⇒Bozeshima⇒Nishijima: Get on "Boze Kisen". Reservation is necessary for Nishijima.