National Treasure, World Heritage,
Himeji Castle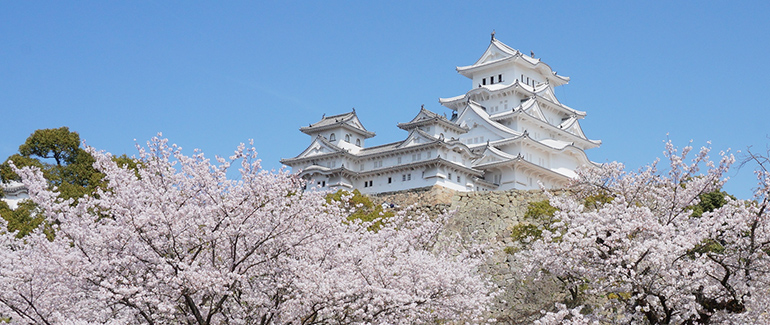 Himeji Castle has 400 years of history. It is evaluated highly from the world as a castle that is still the original building among Japanese castles. In 1993, it was registered as the world heritage site along with Horyuji for the first time in Japan. The graceful white building is compared to a white heron and it is also called "white heron castle" and creating very beautiful scenery.
Hishi Gate (Diamond Gate)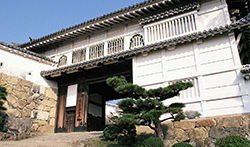 It is a gate between Sannomaru to Ninomaru and still has the form from Azuchi Momoyama period in the whole gate. It is the largest gate in the castle.
Sangoku Moat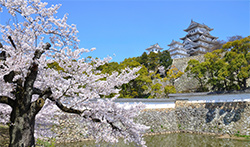 It is in an important location that covers kugo located in the Hishinomon, and main trail secret path in Ninomariu.
Nishi-no-Maru (West Bailey)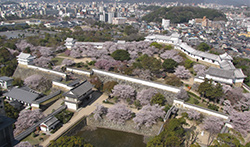 Nishinomaru was built so Tadatoki Honda and Princess Sen can spend relaxing time. In order to cover the only geological weak point in the caste, it has extremely rough structure such as sturdy Nurigome window, corner tower with rock drop, large wooden door to divide the hall. Also near the south gate, there is Worrier's square where they gathered before the battle and formed their groups. On the other hand, the garden that has a great view of the west of the castle tower is a bright and peaceful plaza.
Kotenshu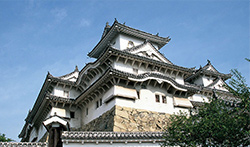 It is the last point to attack the enemy who reached the entrance of the large keep. It is paired with Higashitenshu. It is the same appearance and inside as Higashitenshu and it also has rock drop and iron barred windows.
Daitenshu (Main Keep)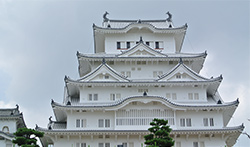 It looks from the outside to have 5 layers but the inside has 1 floor of basement so it has 6 floors. On the top floor, a pair of Shachigawara is decorated. Shachi is the imaginary ocean fish with tiger's head and thorns on the back. It is decorated to protect the castle from fire. Tenshu was originally a watchtower for seeing far away and tenshu for Himeji Castle is located about 30m high (90m from the sea level). What supports this large tenshu is 2 pillars with 2m diameter go through the ground floor to 6th floor. It was an advanced technique for the time. Also, Himeji Castle connects Daitenshu and 3 shotenshus with roofed passage and it is called renritsu style tenshu (tower grouping) and it is a unique structure that distinguishes this castle.
Bizen Gate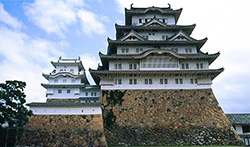 It was part of the Honmaru and the castle owner, Teruzumi Ikeda lived there. It had meeting room where the castle owner met with visitors and residence for his wife but it burned down in the fire in 1882.
Gate keepers, Himeji Castle Armored Group, and Ninjas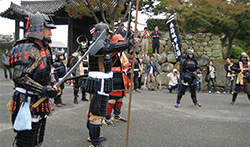 They come to the castle randomly mainly on weekends. In Himeji Castle, gate keeper, Himeji Castle Armored Group who wears armors, ninjas with swords and ninja stars come and take pictures with tourists. If you are lucky, you can meet them.
Cherry blossom season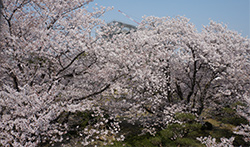 1000 cherry blossoms around Himeji Castle are impressive.
Address
68 Honmachi Himeji 670-0012
Hours
September 1st to April 26th/ 9:00 to 16:00 (Gate closes at 17:00) April 27th to August 31st /9:00 to 17:00 (Gate closes at 18:00)
Fee
Until March 26th 2015
¥400 for adults, ¥100 for 5 years old to junior high school student (10% discount for a group over 30 people, 20% discount for a group over 100 people, 30% discount for a group over 300 people), common ticket for Himeji Castle and Kokoen available.

After March 27th 2015
¥1,000 for adults (over 18 years old), ¥300 for elementary school to high school students, free for children before elementary school.

(20% discount for a group over 30 people)
Closed days
December 29th and 30th
Access
Train
About 15 minute walk from JR and Sanyo Dentetsu Himeji station
Bus
5 minute walk from "Himejijo Otemon mae"stop