Enjoy Himeji
Himeji is located at South western part of Hyogo, and is the second largest city in Hyogo (with population of 530,000). Chugoku Mountains are located on the north, and the Inland Sea of Japan is located on the south. It has been a major location for transportation for a long time and is a city filled with nature and historical culture.
Himeji city has "Himeji Castle" that is registered as a world heritage from the first time in Japan in 1993. There are many tourist resources here. For example, Shoshazan Engyoji has 1000 years of history and the Hollywood movie, "Last Samurai" was filmed here. There is also "seafood" freshly caught at the Inland Sea of Japan" and local gourmet of Himeji.
The access to Himeji city is about 2 hours and 15 minutes in the airport bus from Kansai Airport. It is 3 hours from Tokyo, 1 hour and 30 minutes from Nagoya, 30 minutes from Shin Osaka, and 1 hour from Hiroshima in JR Shinkansen so it is very convenient to get here from major cities in Japan. The world heritage, Himeji Castle, can be seen from JR Himeji Station. It only takes 15 minute walk and is very close to the station.
Special Interest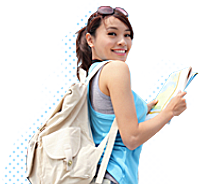 As a castle that remains as the original structure from the time of its building, it has been registered to the World Heritage and many tourists from in and out of the country visit it. Only daitenshu or the main fortification tower is being rebuilt at present and one cannot enter inside; however, entering other areas of the castle and observing daitenshu from outside is possible. You are sure to be overwhelmed by its grand scale and beauty.

About Himeji Castle

Such as taking a walk in the vicinity of Himeji castle with kimono, transforming yourself with Japanese armor, experiencing tea ceremony at the beautiful garden, observing sake winery, there are full of menus to experience the castle town of Himeji.

Expericnce to enjoy Himeji fully

At Himeji-city tourist guidepost inside the concourse of JR Himeji Station, starting with tourist guide, services such as pamphlet distribution, free rental cycle, coin PC, wifi, and battery charge, etc. are provided.

Himeji-city Tourist Guidepost
Enjoy Himeji!